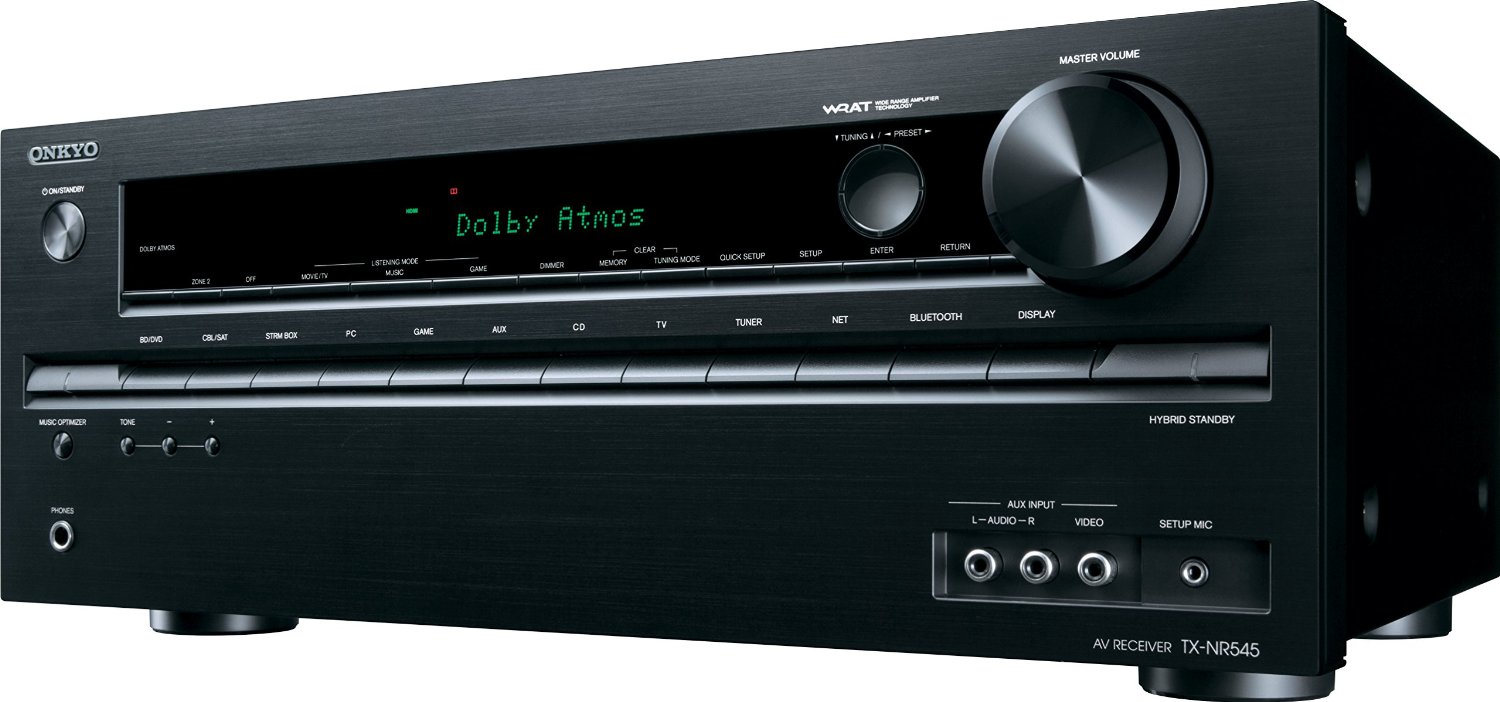 While some top-tier models can add up to four extra speakers, the TX-NR545 – like its rival Pioneer VSX-930 – is limited to two, forging a 5.1.2 set-up. Essentially, the Atmos-enabled speakers stand in for what would be sixth and seventh surround back speakers in a traditional 7.1 arrangement. Set-up is as straightforward as it gets for products such as this.
All the connections are clearly labelled and easy to find. Just wire up the unit, connect the supplied set-up mic and off you go, establishing a network connection by Ethernet or Wi-Fi wraps up set-up, allowing for streaming via Spotify Connect, DLNA, internet radio and Airplay. Non-Apple users can also look to Bluetooth.
As regard the connectivity, all six HDMI inputs are kitted out with the 4K-supporting 2.0 spec, while the first three are also HDCP 2.2 certified for compatibility with Ultra HD content. The HDMI out packs HDCP 2.2 too, on the front panel, the USB and HDMI inputs found on last year's TX-NR636 have been replaced by one composite video and a pair of stereo RCA inputs, joining a 6.3mm headphone output, that aside, it's hard to tell the two apart. You still get a solidly built box, available in either black or silver, that's clean and orderly from front to back.
QUICK VIDEO OVERVIEW
ONKYO - TX-NR545 7.2-Channel Network A/V Receiver
Discover the Balance of Power and Performance The 7.2-channel TX-NR545 Network A/V Receiver is the best-equipped receiver in its class, delivering ...
On the performance front, take the two Atmos speakers out of the equation and it's surprising just how much you miss that additional information. It's like switching off a film's director's commentary and missing all the enlightening tidbits. There's no denying Atmos enhances the experience – even with just two speakers. Unfortunately, all that can't quite compensate for its sonic flaws.
The Onkyo proves itself elsewhere too. Capable of decent punch and power, it attacks with determination and authority when required in the non-stop action scenes.
Its large-scale sound field doesn't struggle to fill the room, proving watertight too as effects blitz from one speaker to the next. Dynamically it stays on its toes, rendering shifts pretty well – though it isn't as explosive or subtle as the class leaders.

Price history for Onkyo TX-NR545 7.2-Channel Network A/V Receiver

Latest updates:

$813.70 - December 4, 2019
$599.00 - November 15, 2019

Since: November 15, 2019

Highest Price: $813.70 - December 4, 2019
Lowest Price: $599.00 - November 15, 2019
Switch to music and the Onkyo is a fun listen. While it lacks the Sony STR-DN860's richness and refinement, it revels in liveliness, agility and strong rhythmic drive. The Music Optimizer mode enhances clarity, but even without it there's good focus and bite.
All-in-all, the Onkyo TX-NR545 Receiver is a good option for those wanting to add Atmos to their existing set-up without breaking the bank.