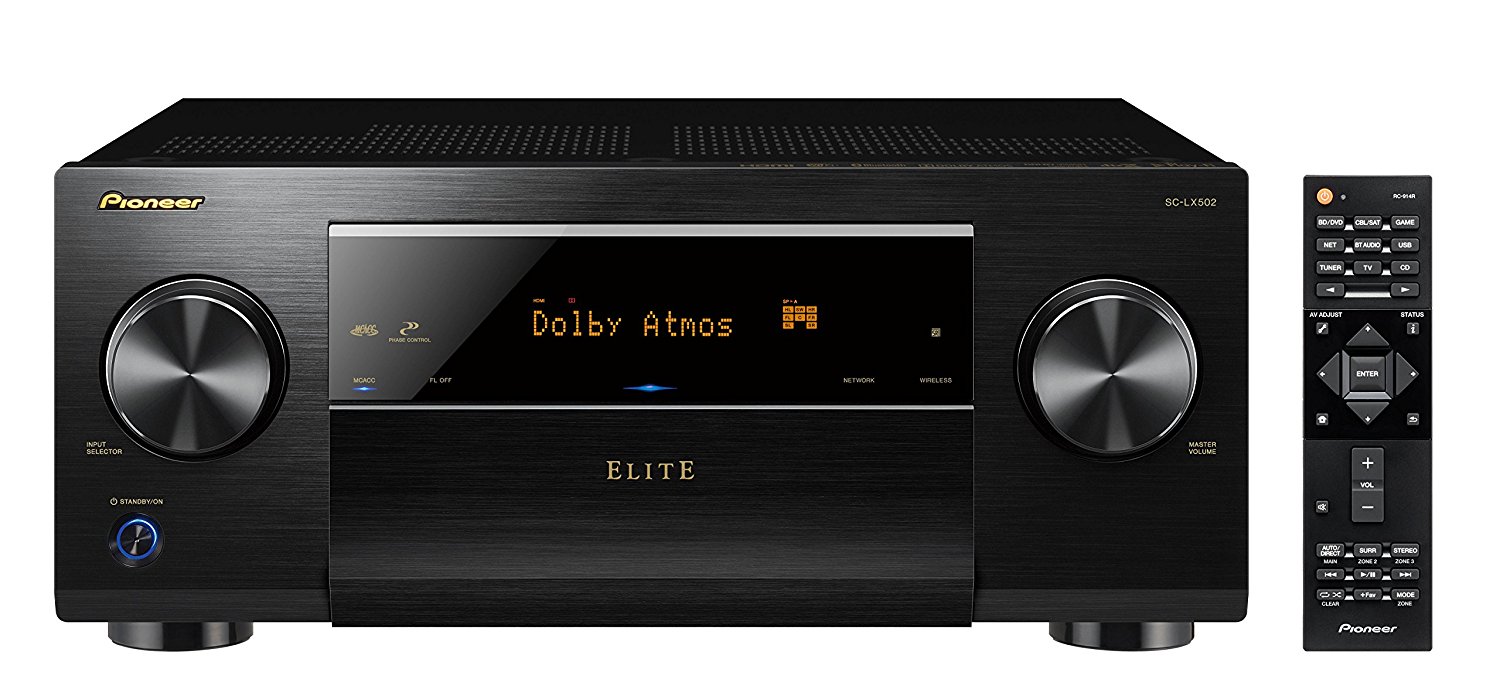 The PIONEER ELITE SC-LX502 A/V Receiver is the simplest and easiest system to use. From its straight forward connections on the back of the unit to its very sleek remote, the Pioneer ELITE is bar-none the easiest system I have used. Set up was quite simple both in regards to setting up the connections to actually setting up the unit for use in the room you are using. It comes with a very straight forward instructions system that allows you a HUGE amount of versatility depending on how many speakers you are using and the position you are using them.
From ATMOS to 7.2.2 +2 set up, this is the most versatile system I could hope to buy. If you are in a fix and can't figure out what to get, this is the only system you need to look at. I upgraded to this system for its 4K throughput capability, and it was the best thing I could have done. I am extremely happy with my purchase. Once the calibration was completed the amp provides excellent sound, runs much cooler than the older class A/B. The performance is outstanding and phenomenal.
The PIONEER ELITE SC-LX502 comes with a better connectivity, Wi-Fi, Bluetooth, and Ethernet port. Plus, the 4K arc connection allows the audio from TV apps such as Netflix to connect with an HDMI cable instead of an optical. The setup is easier than you can expect and you can use the manual which has comprehensive and detailed instructions on how to go about the setup. You are guaranteed to enjoy this system for a 5.1.2 setup whenever you purchase one. Front sound stage is Martin Logan (Motion 40), Center Martin Logan Motion 4″, Rear Klipsch R-28F, Ceiling (height speaker) Klipsch RIC-65, Subwoofer 10″ Klipsch downward firing, TV LG OLED65B7A 4K, 4K Blu-Ray Sony UBPX800, Phono Audio Technica AT-LP120, also assorted video gaming consoles and computer models.
Conclusion
Overall, I think this system is great for my needs and for the needs of my intermediate audiophiles out there, or people who are trying to purchase an affordable, capable and clean system. I have often been tempted by other manufacturers but Pioneer keeps impressing me with their affordability and options at this level AVR.
Lastly, after playing with both the old and new remote controls and Phone/Tablet applications, I find no real problems with the new simplistic styled remote, it actually takes less brain power to move around the system interface. Cheers!