The Cambridge Minx X301 subwoofer is intended, first and foremost, to enhance the sound of a TV . It has won over a large number of consumers who wanted to improve the audio of their television shows without investing too much. In terms of performance, the new Cambridge Minx X301 subwoofer did better than the previous model.
With less than 30cm of side, the Cambridge Minx X301 subwoofer ranks among the smallest on the market. Despite this, it is able to produce a surprising level of bass thanks to its 300 watt amplification responsible for feeding its 20 cm speaker supported by a passive radiator of the same size.
High quality Technologies
Delivering a bass of incredible intensity and depth for a subwoofer of this size, the Cambridge Minx X301 is surprising. And since it's compact, it can be placed anywhere in the room, even behind the sofa, which won't prevent it from adding warmth and density to any soundtrack. Cambridge engineers have designed a sophisticated digital signal processor (DSP) for this subwoofer, providing real-time control of EQ settings and dynamic range processing. It enables the Cambridge Minx X301 subwoofer to deliver optimum performance, while preventing the risk of overloading and distortion to the speakers. The Cambridge Minx X301 can thus handle the strong increases in power and produce an imposing sound volume without failing.
The Cambridge Minx X301 subwoofer uses a specific speaker coupled to an ABR (passive radiator) system rather than a closed load (which would require even more power) or a bass reflex design (which would require a larger cabinet) . It is thus capable of producing extremely efficient and powerful bass, despite its tiny size. The Cambridge Minx X301 subwoofer has gain, phase and crossover frequency control on its rear panel. There is also the connection (RCA input / output compatible LFE ) as well as the on / off switch and the automatic on / standby selector.
Equally at home in hi-fi in a 2.1 stereo configuration or home cinema in a 5.1 system, the Cambridge Minx X301 subwoofer adapts to all situations. Its small size, its nice finish and its various settings allow it to be placed and adjusted easily, for perfect integration into the living room.
Digital Signal Processor
Cambridge engineers have designed a sophisticated DSP to provide real-time EQ and control, as well as dynamic range processing, to obtain the best possible performance and avoid overloading and distortion of the transducers. This allows Minx subwoofers to handle more power and produce an even more punchy sound.
Sleek and thunderous
Both subwoofers (X201 and X301) use a highly advanced driver and ABR (Auxiliary Bass Radiator) system rather than a sealed cabinet system, which would require more power, or a bass-reflective cabinet system, which would require larger dimensions. The result of this system is two powerful, highly efficient subwoofers in small structures.
Musical and vocal performances
Listening to Charlotte Cardin's song Crazy Anywhere, the Cambridge Minx X301 subwoofer produces a clear sound that gives the listener a sense of closeness to the music. This sound definition is especially heard at high and medium frequencies. The bass doesn't offer much precision.
The subwoofer also has a modest output which gives it enough precision to respond to just about any musical genre and, most importantly, does not suffer from the effects of buzzing
Quality of finish
The Cambridge Minx X301 subwoofer has a more modern and practical design than the previous models. Its 10.5 inches width makes it one of the few subwoofers from a recognized brand that can harmonize with small screens.
Connections and Adjustments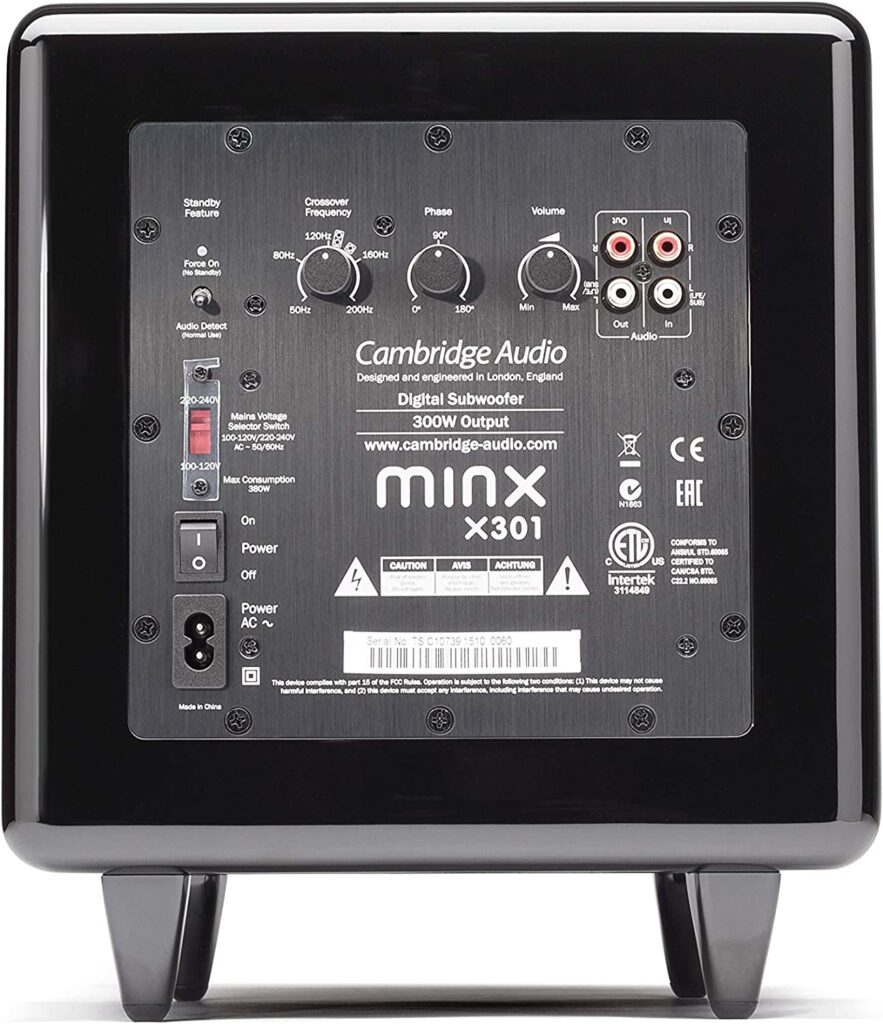 Specifications
| Specification | Detail |
| --- | --- |
| Speaker type | Active subwoofer |
| Driver size | 1 x 8-inch long-throw driver |
| Frequency response | 28 Hz – 200 Hz |
| Amplifier power output | 300 watts RMS |
| Inputs | Stereo RCA Line In, Mono LFE input |
| Input impedance | 33 kOhms |
| Signal-to-noise ratio | >90 dB |
| Crossover frequency range | 50 Hz – 200 Hz |
| Crossover slope | 12 dB/octave |
| Phase control | 0 to 180 degrees |
| Auto on/off | Yes |
| Dimensions | 291 x 292 x 305 mm (H x W x D) |
| Weight | 12.5 kg |
Our Rating
Here's a summary of why we chose 4.6 out of 5 for the Rating:
Deep and Powerful Bass: The Minx X301 produces deep, punchy, and well-defined bass that adds depth and impact to movies, music, and gaming. It effectively reproduces low-frequency sounds, creating a more immersive and engaging audio experience.
Compact and Stylish Design: The subwoofer's compact size allows for easy placement in various rooms or setups, without compromising on performance. Its sleek and stylish design blends well with any décor making it a visually appealing addition to your audio system.
Versatile Connectivity Options: The X301 offers versatile connectivity options, including line-level inputs and outputs, as well as LFE (Low-Frequency Effects) input. This allows for seamless integration with different audio systems and configurations.
Advanced Features and Controls: The subwoofer features advanced controls such as phase adjustment and volume control, allowing you to fine-tune the bass output to match your preferences and room acoustics. These features enhance flexibility and customization.
Solid Build Quality: Cambridge Audio is known for its excellent build quality, and the Minx X301 is no exception. It is constructed with high-quality materials ensuring durability and longevity.
Conclusion
The small size of the Cambridge Minx X301 Speaker soundbar is ideal for 43 TVs inches and smaller. Although it is not very powerful, it offers better separation and more sound depth than the majority of small format televisions. It will be suitable for those who just want to improve the audio on their TV and are not looking for a more expensive device capable of simulating the ambiences of home movies.