Equipped with internal amplifiers that eliminate the need for an external A / V receiver, these monitors also feature Tractrix® technology, which translates into great frequency response and minimal distortion.
Magnetron, a company specializing in equipment and sound solutions, presents its new self – powered floor speakers: R-28PF.
The true high fidelity stereo sound is what promises this floor monitor system that integrates a 260-watt amplifier, which translates into a sound reproduction without the need for an external audio receiver. Any source, either via cable or Bluetooth® technology, is compatible with these speakers, which deliver refined, high-power audio.
Customized Amplification
Klipsch R-28PF offers a wide spectrum sound thanks to the incorporation of an amplifier that adjusts in a personalized way to offer high performance, low distortion and a wide frequency response.
As a differential feature, the individual amplifiers provide a low noise level and are custom designed to optimize the performance of the system. In this sense, the engineers of Klipsch study and control completely the route that the signal follows until it goes out. In the same way, they select and adjust each component to achieve an incredibly immersive and complete sound.
Exclusive Technologies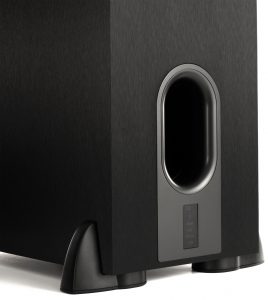 These speakers also have an integrated phono preamplifier and have been designed using speakers with Tractix® technology, with 90 × 90º circular waveguide integrated with a square space, which improves the response in high frequency, as well as the dynamics and the sound image.
In addition, the Tractrix® technology allows air to transfer quickly and efficiently from the box and thus achieves the clearest and most powerful bass response in the market.
To all the above, two 8-inch IMG woofers that have been magnetically shielded are added, which affects the transmission of deep bass without distortion.
Absolute Versatility
The wide possibilities of connection are another plus added for this equipment, which is provided with Bluetooth® technology for wireless communication with compatible systems, such as smartphones and tablets, among others.
It also has a digital optical input, analogue inputs by RCA and also USB connectivity, which means that virtually any source available at home can play their audio content through these columns.
If the user wants to give more power to the reproduction of bass tones, you can also take advantage of the sub output to connect a compatible subwoofer.
Klipsch Reference Speakers Overview
AMPLIFICATION OF GREAT EFFICIENCY

The R-28PF speakers incorporate very low noise individual amplifiers, specially designed to maximize system performance and eliminate the need for external amplification. This means that Klipsch engineers, world leaders, have full control over the signal path. We have chosen and tuned the components so that they adapt to each other perfectly, making the system sound incredibly immersive and complete.
Features and Specifications
260W Total System Power
Bluetooth® Wireless Technology with aptX
Phono Preamp built in with ground screw Terminal
3.5mm / RCA analog line inputs
USB and Optical Digital Inputs
Sub Output
Remote Control
Intuitive use
The Klipsch R-28PF has front LED indicators to show the active input at all times. When it is annoying or unnecessary for the user, just press the LED button on the remote control to turn them off.

COMPLETE INFRARED REMOTE CONTROL
Allows easy access to system functions such as source selection, track control and playback/pause. Also has a option to control the Bluetooth and also increasing or decreasing the subwoofer output on the individual speaker.
User impression
A quick glance through customer reviews on Amazon indicated that they love it and lots of them were more than delighted to give it a five-star rating. One of the customers named Rusty Lamont wrote "1. Great sounds. 2. Innovative as eliminating the need for two stereo components (preamp, D/A converter). 3. Would be nice if the speaker "remembered" the input source when powered up. Overall great and innovative speakers. Plug your PC in via USB and play music from your collection or streaming. Speakers have a lot of power so you can go from very soft to very loud."
Conclusion
After going through the specifications and reviews of Klipsch floor stand speaker we can agree that it is the amplified version of the Klipsch R-28F column loudspeakers. Equipped with a bi-amplification delivering 260 watts of power (520 W peak), these speakers have a Bluetooth wireless receiver, a switchable RCA input line in Phono input with integrated pre-amp, an input auxiliary mini-jack and two digital audio inputs (optical and USB). A remote control is provided to control these speakers remotely. Every customer that bought it fell in love with it and gave it a five out of five rating.