The sale of video projectors is constantly increasing among individuals thanks to the recent drop in price: it is finally possible to find an excellent model under the bar of $2000 to create your own cinema room at home. The dream !
Ideal for saving money in view of the price of screenings at the cinema, this investment will allow you to save money in the long term as long as you pay attention to the pitfalls … To help you in your choice, I suggest you start with my opinion on the best video projectors of the moment according to your budget!
How did we make our choice?
Choosing a 4K projector is not easy as it requires a significant investment and there are so many models offering different characteristics, sometimes difficult for its buyers to understand.
In order to avoid making a blind choice and to guide you in your efforts, we have established a list of criteria that may be useful to you:
Tri-LCD and DLP : There are two main types of video projectors, the Tri-LCD and the DLP. The former is generally more affordable, but the contrast is not as good as DLP, which is the most popular technology, used to achieve better brightness.
Brightness : it is measured in lumens. The higher the value, the brighter the projector will be at a given distance. If you are purchasing a projector for business, more brightness is desirable, as you will more often be using it in a bright room. The larger the room, the more lumens you will need. If you are buying a home theater projector, you will need rich color contrast without causing eye strain.
Resolution : this is the total number of pixels that a projector is capable of displaying. The greater the number of pixels displayed, the better the image quality. A video projector must imperatively be highly pixelated to ensure a clear image given the size of the screen. 4K, on the other hand, has four times more pixels than a standard HD image.
Zoom : if you plan to install your projector in different places, you will not always have control over the size of the screen or the placement of the projector. In these cases, you can use the zoom. By adjusting it, you will not need to move the projector to adjust the image size. The larger the zoom percentage, the wider you can render the image.
The "lens shift" : it allows you to manually adjust the angle of the lens by moving it up, down or to the sides. The good news with this feature is that it keeps 100% of the resolution of the projected image.
Sound : a video projector is often equipped with speakers. Their audibility and power should be checked so that they do not involve the purchase of additional speakers. This is an important point for those who want to watch movies or broadcast sporting events.
Noise : a cooling system composes these devices. The problem is that a fan can make noise, which is potentially annoying for the viewer. Suddenly, some companies offer silent modes or simply sound fans.
To judge each of these products with complete impartiality and determine the best of them, we have consulted the opinions of testers from different sites, comments from Internet users and many forums. After seeing the superiority of some, we made our selection of the best 4K projectors around.
ViewSonic PX747-4K
The ViewSonic PX747-4K benefits from a quick and easy installation. It is adjustable according to a vertical lens shift of +/- 40 ° and two movable feet by means of a blue backlit control. The camera's lenses perform autofocus and a 1.2x zoom which can seem a bit imprecise. Note that with its weight of around 4 kg, it is easy to move.
If we look at its connection, we can list two HDMI, a jack input, an audio output, a VGA or even a USB used for its power supply.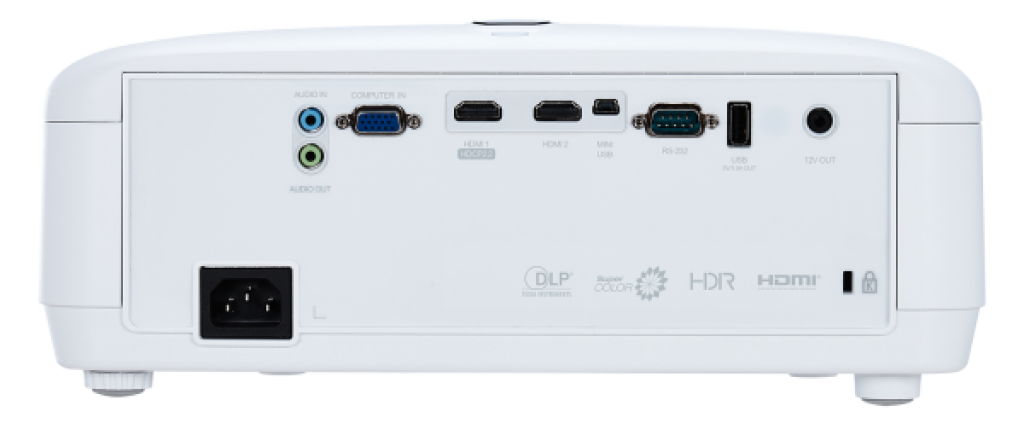 Its CPR technology projects 8.3 Mpx of 4K UHD resolution (3840 x 2160 px) and thus offers precise visual rendering, also thanks to its DMD XPR chip. Unfortunately, there is no 3D, but at this price point, that was to be expected.
This video projector has a brightness of 3,500 lumens for a contrast of 12,000: 1, its HDR format improves these two characteristics. They are also perfected by the RGB color wheel as well as by SuperColor technology which gives importance to colors.
With all of these aspects, you don't have to be in a totally dark place to view footage.
Regarding the other functions, the "Film" mode is intended for cinematographic projections. You can enjoy a pleasant sound experience thanks to the wonderfully functioning speakers (10W) and a fairly quiet fan. We specify that the Eco mode offers a very good lifespan of up to 15,000 hours (for the lamp).
In short, it can be said that the PX747-4K is a colorful projector thanks to its HDR format and SuperColor technology, you won't have to worry about the brightness of the room you want to use it in. With its precise rendering, we must add its excellent sound quality as well as its ease of installation and use.
Viewsonic X10-4K
The ViewSonic X10-4K has a brightness of up to 2,400 lumens. It projects a 4K image with a resolution of 3840 x 2160 and a contrast usual in the mid-range, namely 30,000: 1. Note that it is compatible with HDR-10 and HLG technologies as well as 3D DLP-Link.
Side life, there is something to do since the manufacturer indicates that the lamp can last up to 30,000 hours in eco mode. It is not in terms of light, but many colors that this 4K projector stands out: it does not use a color wheel to give color to the images, but goes directly through the LED light source. RGB. This therefore avoids the "rainbow" effect that many DLP projectors create when you move your eyes from side to side in the image.
The ViewSonic X10-4K does not, however, offer lens shift: you have to be satisfied with electronic vertical keystone correction to overcome geometry problems. It also does not have a zoom.
Regarding sound, however, it is equipped with two 8 watt Harman-Kardon speakers for a stunning rendering. It is obviously possible to connect external speakers via its 3.5 jack. The fan remains around 33 dB, which is very quiet.

There are also two HDMI sockets (requiring a good dedicated cable ), an S / PDIF port, an Ethernet port, three USB ports including two 3.0, and a micro SD port.
For its durability, high contrast and unique color management technology, the Viewsonic X10-4K offers excellent value for money. It is for people who want to invest in a very good 4K projector that lasts over time.
BenQ W2700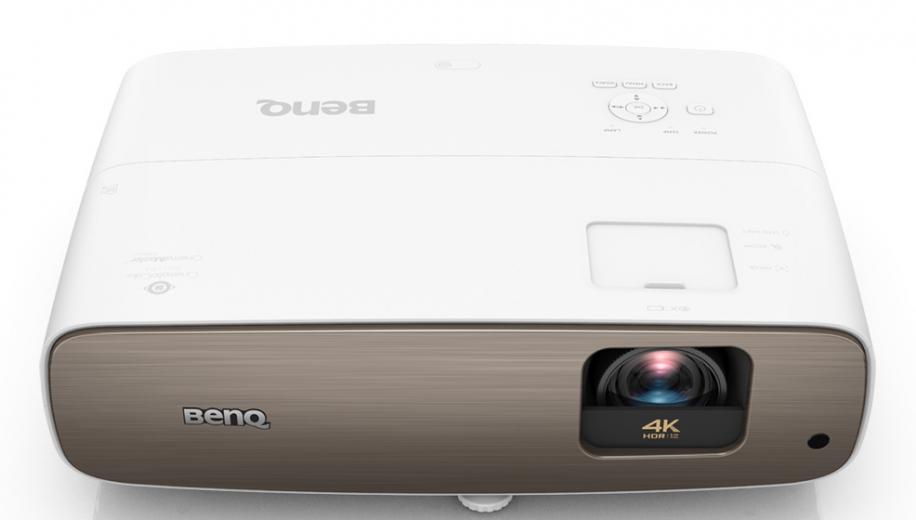 What to say about the BenQ W2700 ? For the price, we might be dealing here with one of the best 4K projectors around. With its 2000 lumens, the W2700 is able to project a large image without losing brightness, allowing it to be moved away from your projection screen without fear. We are getting closer and closer to cinema quality. This BenQ projector features Cinematic Color technology and brings the material to 95% of the DCI-P3 standard , an RGB color space created by the American audiovisual industry. In short, this standard is used in a large number of cinemas and approaching it so much allows the director's color choices to be respected as much as possible.of the movie. All this will make it possible to approach more and more another standard, the BT-2020 , which is also a cinema standard but this time more advanced and more complex to meet. It is reached 67% by the W2700, good job BenQ!
To improve contrasts in films and avoid the more or less usual effect of the whitish haze of many video projectors, the HDR Pro technology of this W2700 calculates in real time the ideal contrast and the best compromise to offer you the most beautiful image possible, once again without distorting and therefore without burning the colors too much.
Video projector: how does it work?
The video projector is a device which projects images from a source peripheral onto a cinema-type screen or onto a flat, clear, smooth and preferably matt surface. Basically, to have an image, a lamp diffuses an intense light which passes through filters and it is at the level of these filters that the colors and the images will be reconstituted then projected via a lens.
Different Diffusion Technologies
Several technologies are used to achieve this diffusion, including LCD, DLP, CRT, laser, LCOS, LED, DIY and hybrid technologies. But let's take the most essential, namely the display technologies that equip most of the current projectors which are the LCD, the LCOS, the DLP and the LED.
LCD technology, without going into details, relies on the polarization of light, that is to say that the light will be broken down pixel by pixel thanks to polarizing filters or three dichroic sorting mirrors (red green blue ), then recomposed into one, which will be projected onto a screen using the lens.
LCOS technology is an improved version of the LCD, which in most cases lacks contrast on the projection results. To remedy this, LCOS (Liquid Crystals on Silicon) uses a reflective silicon surface covered with a layer of liquid crystals to block or reflect light rays.
As for DLP (Digital Light Processing) technology, it is developed only by Texas Instruments. In this technology, each pixel corresponds to a mirror activated by an electric field. It will therefore be up to the mirror to pass the light from the lamp to the screen or not.
Finally, LED technology uses the same technologies mentioned above for the light filtering part, but is based on a light-emitting diode lamp as the light source.

Video Projector or Large TV?
Long considered as a peripheral specific to the professional field, the video projector is inviting itself into our homes to compete with our beloved television. Whether it's a movie projector or a video game projector, it doesn't matter, but is it better than a 4K TV ? Assuming that the image quality is correct, it must be said that both have undeniable advantages, but also limitations.
LED display
In terms of technology for television, it is clear that LED backlighting has dethroned and even signed the disappearance of LCD and plasma models. Thanks to this technology, screens are becoming thinner and more discreet and can be easily mounted on a wall. OLED, the latest in backlighting techniques, offers more quality and finesse in images, with a more contrasted and brighter rendering than any other screen.
Video Projectors
As for projectors, it must be said that all technologies, whether DLP, LCD or LCOS do not compete with OLED on contrast and depth of black, even the best home theater projector, although these are characters that can change the cinema experience and feeling.
On the other hand, nothing can match a video projector when it comes to image size, as it can deliver images up to 7m diagonally with ease, and even short or ultra home projector models. short can offer very large and wide formats being only a few centimeters from the projection screen. Thus, with a video projector, the home cinema takes on its full meaning.
Verdict
In short, in terms of format (HD to 4K, and 3D capability), color quality, we can say that the two devices are tied. From the point of view of contrast, depth of black and brightness, it is considered that television is more accomplished, which also results in the inability of certain video projectors to provide beautiful images in broad daylight. On the other hand, television is largely outdated on the issue of size and versatility.